Sexpool
A Deadpool parody porn game. You play as a female patrol officer searching for revenge after being made a sex slave by a local gang party.
The sexy protagonist continuously find herself trapped in dangerous situations, as she effortlessly seduces hordes of criminals. Make the right choises and the vindictive killing spree continues, otherwise the result is a speedy death and game over.

Updated to version 1.0.0 on November 19th 2021, which is the final and complete verison.

Mobile users: this game should work on Android mobile devices. On iOS we had less luck.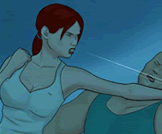 Chrome and Edge users: after a browser software update in April 2022 games developed with Ren'Py are displaying a "Script error". Currently the best solution is to use a different browser like Firefox.