Infinity Crisis Island
An adventure porn game with various heroines from DC and Marvel comics.
In Infinity Crisis Island you run a tropical beach guest house. Your fist guest is the muscular but sexy She-Hulk! It's up to you to win her over for some hot porn action.

For news and development support check Sexyverse Games Patreon page

Note: the initial download is almost 200 Mb, so be patient while it loads.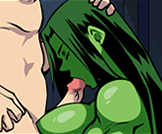 PLAY Infinity Crisis Island NOW