Good Girl Gone Bad
Play as Ashley, the female protagonist of this adult adventure game with a rich storyline, interesting character development and hand drawn graphics.
It's up to you to keep Asley on the right path or corrupt her into living a lewd lifestyle with drugs, lesbian sex and wild orgies!

Game version 1.2 Jasmin DLC (complete version)
Good Girl Gone Bad has been developed by Eva Kiss.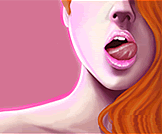 PLAY Good Girl Gone Bad NOW
Chrome and Edge users: after a browser software update in April 2022 games developed with Ren'Py are displaying a "Script error". Currently the best solution is to use a different browser like Firefox.