Dreams of Desire
A visual novel style adult game with 3D rendered sex scenes.
In Dreams of Desire you take the role of a young guy living with his mom and two hot sisters. After stumbling upon an old book you learn about mind control and living out your fantasies by ways of hypnotization..

This game has been completed by the developer (V 1.03, final version), there's a lot of content and sex scenes. It can take several hours to play until the end.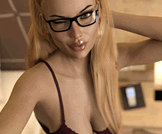 PLAY Dreams of Desire NOW
Chrome and Edge users: after a browser software update in April 2022 games developed with Ren'Py are displaying a "Script error". Currently the best solution is to use a different browser like Firefox.