Price of Power
Price of Power is an erotic visual novel developed by Pandaman Games, with 3D rendered visuals.

You're playing as a young man living in a small medieval town where a romance awaits with your childhood best friend, Maria. The romantic storyline unfolds slowly and there won't be any sex scenes in the first few chapters.

The current version includes Chapters 1 - 5, completing 'Act 1'. The developer has announced the final game will have six Acts in total. So five more Acts can be expected in the future. We will update the game here at Lewdspot as the developer releases new content.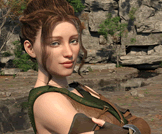 Chrome and Edge users: after a browser software update in April 2022 games developed with Ren'Py are displaying a "Script error". Currently the best solution is to use a different browser like Firefox.