Masters of Raana
Masters of Raana in a text based open-world Sci-Fi RPG with adult themed 3D rendered graphics, developed by Grimdark.

Start your new life in an abandoned colony on the planet of Raana, a dreadful place where after centuries of warfare several kingdoms are fighting for power and where almost half of the population is forced into slavery.

Updated to version: 0.7.9.1 on April 23rd 2022.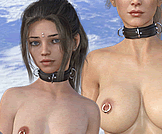 PLAY Masters of Raana NOW