Witchcraft
Witchcraft tells the story of a gorgeous Lara Croft lookalike main character who is studying at the Academy of Magic to become a certified mage.
The game is set in a mix of modern times and fantasy medieval scenes, which involve sexual encounters with various human and non-human species.

You can follow and support development via the developer's Patreon page: Red Silhouette at Patreon.
As new versions are released we will upload them here onto the site.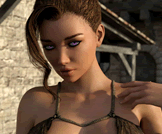 Chrome and Edge users: after a browser software update in April 2022 games developed with Ren'Py are displaying a "Script error". Currently the best solution is to use a different browser like Firefox.