Kingdom of Deception
Kingdom of Deception is a dark medieval themed porn RPG for adults, developed by Hreinn Games.

Set foot in a fantasy medieval world where racial tensions between humans and orcs have lead to the Kingdom of Lundar, established and run by humans. The female protagonist is a badass chick who as the story starts is trapped inside an orc camp. You're in control from there, whether you engage in politics or choose to engage in combat, tell lies or not, choose to whore yourself out or not.. All have their own consequences.

Updated to version 0.13.2 on October 13th 2021
Note: if you see any error messages try the 'ignore' option.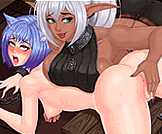 PLAY Kingdom of Deception