Selena: One Hour Agent
An RPG porn game with 3D rendered artwork mixed with a top-down world to be navigated. Gameplay can last many hours and the story line is interesting and well written.
The female protagonist works as an undercover agent and will find herself entangled in all sorts of quests and puzzles, usually ending up in lewd sexual acts.
There's no RPG combat, instead gameplay consists of solving quests, puzzles and engaging in dialogue.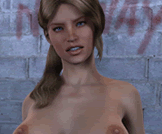 PLAY Selena: One Hour Agent