Quickie A Love Hotel Story
Quickie - A Love Hotel Story is an adult dating sim game with hot hentai style graphics and cutscenes.

the filesize is very large, 230Mb and will be downloaded before the game starts.. --

The Story: "Play as a young university student in his final year of study in Tokyo, Japan. Just before you graduate, you are struck with the knowledge that your family hotel run by your parents will be closing down. In a last attempt to keep it open, you take the reigns on managing the hotel... and turn it into a love hotel!"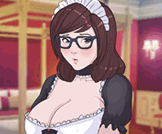 PLAY Quickie A Love Hotel Story