My Employee's Family
This porn adventure game will not sit well with the MeeToo movement.. In My Employee's Family the protagonist is a business owner who abuses his power to take advantage of employees and their family, resulting in lots of 3D rendered sex scenes with a hot, well rounded MILF. Later on other women, like a sexy brunette are introduced.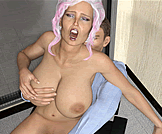 PLAY My Employee's Family NOW
Chrome and Edge users: after a browser software update in April 2022 games developed with Ren'Py are displaying a "Script error". Currently the best solution is to use a different browser like Firefox.