Solvalley School
Solvally School is an adult porn game with 3D rendered graphics. In this visual novel dating game you play as a nerdy teenager who tries to win as many girls as possible for him.
In total there's about 30 girls to conquer in this version of the game.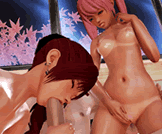 PLAY Solvalley School NOW
Chrome and Edge users: after a browser software update in April 2022 games developed with Ren'Py are displaying a "Script error". Currently the best solution is to use a different browser like Firefox.