Double Homework Episode 2
Chapter 2 of this erotic adventure game with sexy cutscenes. The story is about a guy living together with two sexy girls named Johanna and Tamara.
A lot is happening in this new chapter as new characters are introduced!
We will add further episodes here at Funny Games.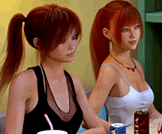 PLAY Double Homework Episode 2