Double Homework Episode 1
Double Homework is an erotic adventure game with sexy cutscenes. The story is about a guy going through a tough time in life, his only luck appears to be that he's living together with two sexy girls..
In this first episode things start out slowly, in later episodes things get more exciting.. We will add all episides here at Funny Games.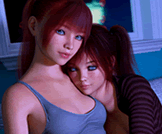 PLAY Double Homework Episode 1