University of Problems
University of Problems is an adult game with 3D rendered porn pics and animations, developed by Dream Now.

A true college life sim! Constant parties, hot girls, lot's of opportunities to explore your sexuality.
If after playing for about an hour you reach the end of the game, then you can either wait for the next update. (which we will upload there as soon as it's released) Or you can play again from the start, this game is designed to by played multiple times, taking different paths.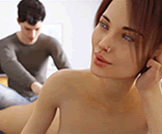 PLAY University of Problems NOW
Chrome and Edge users: after a browser software update in April 2022 games developed with Ren'Py are displaying a "Script error". Currently the best solution is to use a different browser like Firefox.