Confined with Goddesses
Confined with Goddesses is a game with a funny plot and gorgeous 2D hentai graphics and animation, developed by Eroniverse.

You play as a classic down-on-his-luck young male who finds himself quarantined with a bunch of beautiful curvaceous women. Go about your daily activities, try to deal with the crazy quirks of your harem of housemates and make the most of the situation!

Updated to version 0.3.4 on June 8th 2023. Check the changelog.txt below to find out what is new.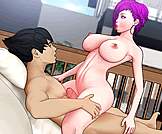 PLAY Confined with Goddesses