Camp Pinewood
Camp Pinewood is a point and click adventure game with hand drawn graphics developed by VaultMan. It's a parody game of various cartoon shows, featuring fan favorite characters in naughty sex scenes.

You're arriving at the Pinewood summer camp as the only boy around. It's just you and a whole bunch of girls out there. Try to get laid as much as you can!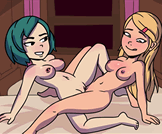 Chrome and Edge users: after a browser software update in April 2022 games developed with Ren'Py are displaying a "Script error". Currently the best solution is to use a different browser like Firefox.