My Summer with Mom and Sis
An adventure game by the developers of Treasure of Nadia and Lust Epidemic. Since this is an older title it's not as great as those two mentioned games, but it's still worth playing.
Take control of a male protagonist called Connor, an 18 year old living with his beautiful sister and ever hotter mom..
P.s. games can be saved during your sleep.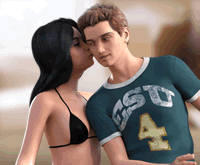 PLAY My Summer with Mom and Sis